"People come to me because they feel that I know what I'm talking about."
It's been a few years since I became a non-smoker from being a chain smoker. And all it took was one hypnosis session. Ever since then, I've been passionate about hypnosis and have undergone training all over the world. I've been working as a hypnotherapist, alternative practitioner for psychotherapy and hypnoanalyst in my practice "Kiez Hypnose" in Berlin since 2013. I'm also a mentor and trainer for prospective and established hypnotherapists.
In 2017, I developed HypnoBox, which is now the most comprehensive self-hypnosis app in the world. I felt that the products on offer in this area didn't meet the requirements I had when it came to hypnosis and meditation apps. Thanks to HypnoBox, I can offer an effective concept to as many people as possible so they can change their emotional issues. And that's a matter close to my heart, in my practice, in the app and as a speaker.
Hypno Innovation Award 2018
"Hypno-Innovation Award 2018" awarded by the International Hypnosis Congress in Zurich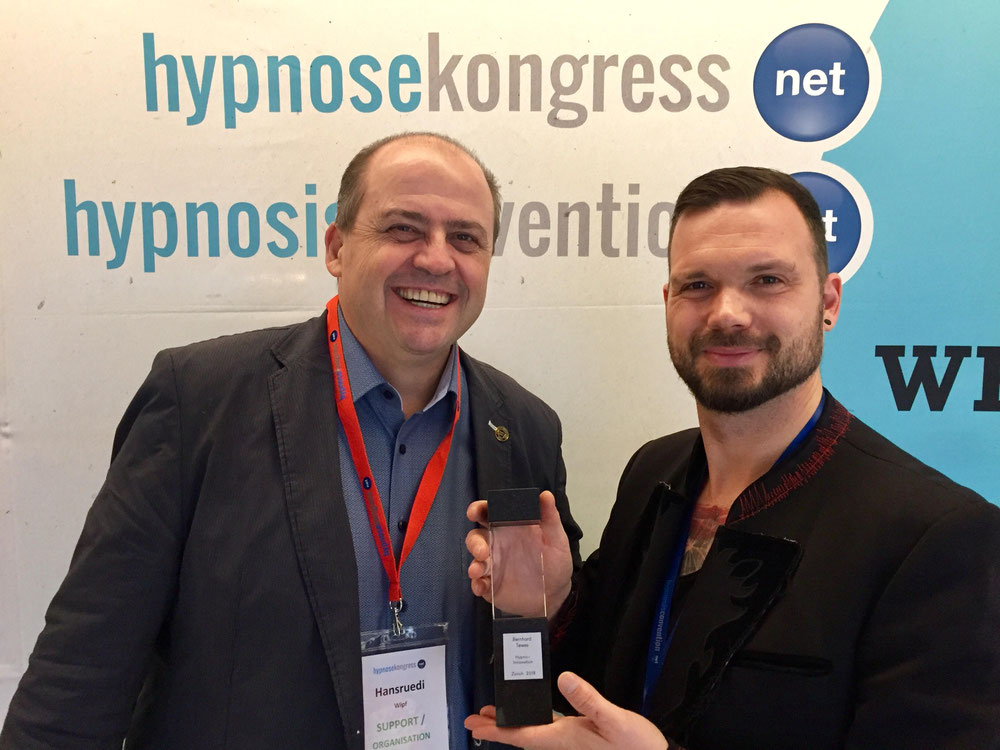 Hypnosis Training
Dr. Norbert Preetz, Institute for Clinical Hypnosis Magdeburg (Master)
Dr. Michael Yapko, USA, specialist in depression
Dr. Edwin Yager, USA, Subliminal Therapy / Yager Code
Dr. Gunther Schmidt, hypnosystemic trauma therapy, Heidelberg
Dirk Treusch, HypnoPlus, Darmstadt
ICHP – Institute of Clinical Hypnotherapy & Psychotherapy, Sven Frank
Child hypnosis, Kerstin Freudenberg, Vienna
iEMDR, Ray Popoola, Zurich
HypnoSex, Stephanie Schenk, Zurich
The Simpson Protocol, Ines Simpson, Canada
Active awake hypnosis, Claude Ribaux, Switzerland
Mental Coaching, Thomas Baschab, Munich
NLP Practitioner (certified by Richard Bandler, co-founder NLP)
New Code NLP Practitioner (Certified by John Grinder, Co-Founder NLP)
System23, Hypnotherapie23, Alexander Hartmann
Nonverbal hypnosis (hypnogenic zones/mesmerism), Friedbert Becker
Carcinos – support cancer therapy with hypnosis, Ina Ostroem
Pain Control & First Aid with Hypnosis, Ina Ostroem, The Netherlands
Ways out of addiction, Kerstin Freudenberg & Bernhard Tewes
Instant Hypnosis, Sean Michael Andrews, USA
Rapid hypnosis, Thimon von Berlepsch, Berlin
Certifications
National Guild of Hypnotists (NGH), largest and oldest hypnosis association in the world
Institute of Clinical Hypnotherapy & Psychotherapy—ICHP
Institute for Clinical Hypnosis Magdeburg
Member of the PROFESSIONAL ASSOCIATION OF HYPNOSIS THERAPISTS
Member of the DHV, German Association for Hypnosis eV
Tina Haseney
Highly Recommended! Kiez Hypnose is absolutely transparent and well-founded and is just something very liberating, something that makes you happy while remaining very connected to reality.
Kristy Choi
Bernhard is a very knowledgeable and skilled practitioner and I recommend him to any one who is interested in delving into hypnosis and serious self-contemplation.
Juliam .B
Bernhard really is a master of his trade. Even though I didn't believe in a big change and I didn't think I got into the trance deep enough, a problem I had struggled with for years has improved tremendously. (…) Completely different quality of life since then. Thanks Bernhard! (…)
Simon Zühlke
Bernhard combines the two most important characteristics of a good therapist: 1) professionalism – you feel that you are in good hands with him, it is rare to find a therapist with so much specialist knowledge and 2) empathy – he skilfully addresses individual problems/questions and always has the right thing Therapy concept ready.(…)
Maria Ahrnsen
I absolutely loved the session with Bernhard! He has a calm demeanor that makes you feel like you are in good hands. You can speak openly without feeling judged. Bernhard is very competent and I think his special method is very effective. I can only recommend Kiez Hypnose!
The Hypnosis App
HypnoBox is the self-hypnosis revolution
HypnoBox is the most comprehensive German-speaking hypnosis app with which you can create your own individual sessions! Self-hypnosis using the HypnoBox app on almost all life topics.
You can download the HypnoBox app directly here: